These are Best Smart TV's in India available under 10000 Rs Today
If you want to see the best Smart TV under 10000 Rs in one place, then you'll LOVE this (updated) guide.
I personally reviewed these TV's before buying one for our Local Library.
And you can choose from the Latest Top Brands to find the best smart TV under 10000 rupees.
Check it out:
BEST SMART TV UNDER 10000 Rs [2019]
Thomson B9 Pro Smart TV under 10000 Rs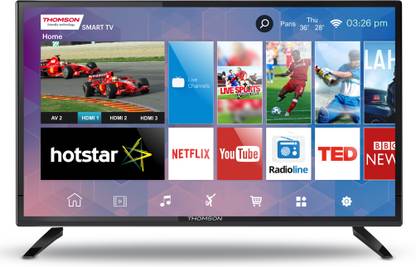 First in our list is the 32 inch smart Tv under 10000 Rs is Thomson B9 Pro.
The price is little higher than 10000 Rs, however you will get it below 10k on offer day.
Size of the Tv is 32 Inch which has codec's license to convert & play 4k videos in HD format.
Being an LED TV makes it less expensive and energy saving.
The resolution of 1366 X 768 HD Ready delivers awesome picture quality.
Refresh rate is 60 hz which is standard refresh rate across for blur free pictures.
Go wireless freedom by just connecting your Smart TV to internet to enjoy services like Netflix, Hotstar, Youtube etc.
Connectivity includes 3 x HDMI ports for set top box, consoles etc, 2 USB and Bluetooth to connect speakers.
It comes with 2 speaker with 20 W speaker out which supports surround sound.
The company provides a 1 year warranty which can be extended additionally for 2 years by paying a fee while buying from Flipkart.
Vu Ultra Smart LED TV under Rs 10000.
Similar to Thomson the TV is slightly priced above 10K.
However offers available on Flipkart that makes the final price of TV under 10000 Rs.
Vu LED TV Most of the features is similar to Thomson B9 Pro.
Only thing separate's both is the price, since Vu LED TV is slightly expensive when compared to Thomson.
Vu LED TV has a HD ready display with revolution of 1366 x 768 pixels.
It's a smart LED TV which has WIFI and supports Netflix, hotstar, YouTube with availability of tons of content.
Vu LED TV features 3 x HDMI, 2 x USB and Bluetooth connectivity.
Enjoy blur-free picture with standard refresh rate of 60 Hz.
Audio features 20W speaker output / 2 speakers.
1 year company warranty is provided on the product.
iFFALCON LED Smart Android TV under 10 K Rs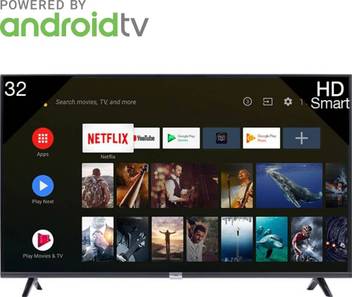 iFFALCON brand LED by TCL which prices for approx 11k combined with offers is available for under 10k Rs.
It comes with A+ Grade HD Ready panel & HDR 10 feature for better picture quality with accurate reproduction of light and dark shades.
The TV has voice enable feature which runs on Android 8.0 thereby giving access to many apps, movies, games, music and play-store.
It supports voice search and has built-in chromecast.
The sounds of iFFALCON LED TV features 16 W Speaker out which is powerful, clear & rich with Dolby decoder.
It features connectivity via Bluetooth, WIFI, 2 x HDMI and 1 x USB.
iFFALCON provides 1 year domestic warranty in case faulty & defective material or workmanship defect.
Kodak LED Smart LED TV under Rs 10000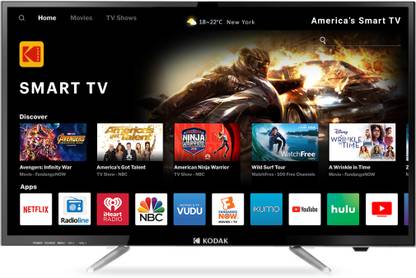 India's leading manufacturer of TV's & Electronics Super Plantronics Pvt. LTD having Kodak brand license announces the launch of Kodak32HDXSMART XPRO.
Like other LED TV company in market, the Kodak LED TV is attracting customer with aggressive pricing with price around 10000 RS.
Features are similar compare to other Smart LED TV under 10000 Rs.
Display size of 32 inch with a resolution of 
1366 x 768 pixels.
Audio features 20 W speaker output.
Smart LED TV is pre-loaded with Apps like Gmail, YouTube, Twitter, Facebook, Hotstar and Netflix.
Kodak 32 inch LED TV is available for price approx 10000 RS on Flipkart.
JVC HD Ready LED Smart TV under 10K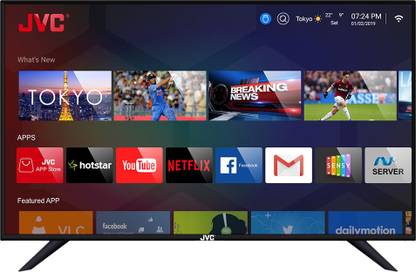 Display resolution of JVC Smart TV is 1366 x 768 HD Ready which ensures Great picture quality
The standard refresh rate of 60 Hz for blur free pictures.
3 x HDMI for set top box, consoles and Blu-ray players.
2 x USB for digital camera, camcorder or USB device.
The Smart TV support screen mirroring plus offers more than 500 inbuilt apps.
Not Interested in Smart TV:
Check out the normal Best HD TV under 10000 Rs (Non Smart TV)
Now you Let us know
I hope this guide on Best Smart TV under 10000 Rs in India in 2019 was helpful.
And now I'd like to turn it over to you:
Did you discovered any other TV which is much better than the above listed.
Or maybe you have a question.
Either way, leave a comment below right now.
Do check
Best Smart Television under 15k