Best Beard Trimmer under 2000 Rs you should have
Are you planning to buy a Beard Trimmer within a budget of Rs 2000 and are confused with the options available Online ? No issues I will tell you some of the best trimmer under 2000 Rs which you can buy right now. Whether you like to keep a full beard look or stubble look, this list has it all.
Best Trimmer Under 2000 Rs in India
1. Philips BT3221/15 Beard Trimmer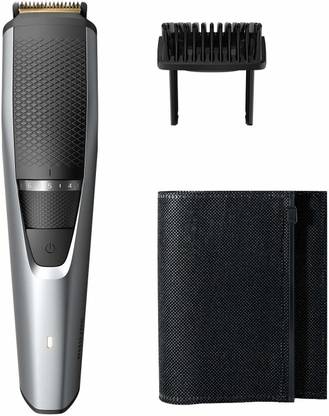 TODAY'S PRICE ON:
In case if you are confused after checking lots of Beard trimmers online, than this one is for you.
The Philips trimmer comes with standard accessories in the box (1 Trimmer, Charger, User Manual)
Best part of the Philips BT3221 is way it is been designed, ergonomic and easy to move around.
The main reason to list this trimmer is it's charging time of 60 mins, not like other Philips models which takes 8 hrs to charge.
The trimmer can also be used with the cord while charging.
Overall, if you are looking for Phillips Best trimmer under 2000 Rs then this is the value for money trimmer you should buy.
2. Mi Beard Trimmer

TODAY'S PRICE ON:
Small and compact Trimmer is what you are looking for, than MI is the right choice for you.
The trimmer has length setting up to 20 MM with 40 settings which includes 2 different combs.
A 2 hours of charging will give you an excellent battery backup of 90 mins.
The built quality of the trimmer is solid with a premium feel.
It can be easily washed after use since it has water resistant feature.
Overall it is good trimmer at a pocket friendly price.
3. Philips QT4011/15 Beard Trimmer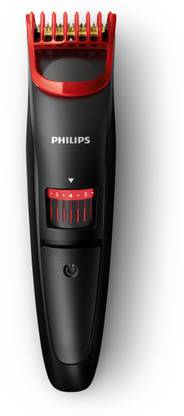 TODAY'S PRICE ON:
Super build quality and superior cutting performance this trimmer is our next choice.
The trimmer features 21 precise length settings for styling your beard.
Impressive battery backup of 45 mins by charging it for just 60 mins.
The Titanium Coated self sharpening blades of the trimmer gives a skin friendly trimming experience.
Suitable for a trimming range from 0.5 mm to 10 mm which is perfect for both stubble and long beard look.
Overall this excellent trimmer under 2000 Rs from Philips is worth buying.
USER REVIEW : Read Full Review
4. Ustraa Chrome – Beard Trimmer

TODAY'S PRICE ON:
When you look at this trimmer 2 things you will notice at 1st impression, one is great design and awesome build quality.
It has the best in class battery which gives 120 mins of battery backup with a charge of 1 hour.
The trimmer comes with 3 Combs, 1 Oil Bottle, 1 Cleaning Brush, User Manual, Warranty Card, Charger and Blade Protector.
Battery level indication in LCD on front side of the body is a great addition.
It work in both corded and cordless mode with the same precision.
Overall this trimmer from Ustraa has everything positive and worth trying for.
5. Ustraa Black 200 Trimmer

TODAY'S PRICE ON:
Another trimmer under 2000 Rs from Ustraa again with a sexy matte black finish and rubber grip handle.
With a quick charge of 60 mins the trimmer gives a cordless usage of 90 to 120 mins
It's ABS combs are strong and lock effectively to provide a smooth, consistent and tangle free trim.
The trimmer features self sharpening stainless steel blades which gives you the perfect trimming experience.
Company provides a warranty of 2 years for this trimmer.
Overall a stylish trimmer under 2k you want to try your hands on.
USER REVIEW : Read Full Review
Anything I Missed?
So those are my favorite best trimmer under 2000 Rs.
And now I'd like to hear from you:
Are there any beard trimmers that you love… but didn't see on this list?
Or maybe you have a question.
Either way, let me know by leaving a comment below right now.
Related:
Best beard trimmer under 1000 Rs
Best beard trimmer in India 2020