Achieve your Best sleep with these Best Air Cooler under 8000 Rs in India
Buying Guide: Best Air cooler under 8000 Rupees in India
Upcoming Night's of summer will be very uncomfortable due to hot climate. The solution to this is to buy Best Air Cooler.
Air Coolers are excellent invention which allows you to take it with you in any of your rooms.
You can place it in your house, office, bedroom, halls etc.
As compared to Air Conditioner the air cooler consumes less energy with low maintenance cost.
It is available in affordable price.
This review contains list of affordable Best Air coolers under 8000 Rs in India.
Best Air coolers under 8000 Rs
1. Crompton ACGC-DAC751 Desert Air Cooler below 8000 Rupees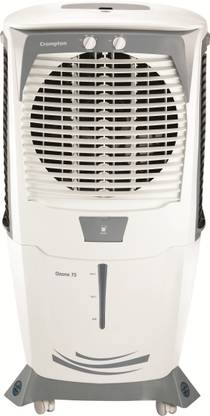 First in our list is an Air cooler from India's Leading player in consumer electrical sector "Crompton"
This Crompton Air cooler has cooling pad made of wood wool which improves water retention and deliver's airflow at 4200 m3/hr.
It features a dedicated ice chamber which allows the cold water from ice to drip on wood wool cooling pad.
With a capacity of 75 litre you don't have to worry on re-filling the water frequently.
The Crompton Air cooler has a capacity to cover an area of 500 square feet.
The body of the Air Cooler is free from rust and easy to clean.
It can be operated on Inverter which is a benefit for those who lives in power cut pron Location.
2. Maharaja Whiteline Arrow Dlx(CO-124) Window Air Cooler
TODAY'S PRICE ON:
Next Air cooler in our is from Maharaja which is a promising model under this segment.
It comes with a total water capacity of 50 liters which is good enough to avoid hassle of refilling.
It will easily cover upto 400 sq ft of area with heavy throw of 30 -35 feet with high Air Delivery of 2000m3/hr.
The Maharaja air cooler comes with a shock proof body avoiding your worry about electric shock.
It's back panel is covered with mosquito net and has woodwool pads for best cooling experience.
This Air cooler is very easy to install and maintain.
3. Hindware SNOWCREST GRAY Desert Air Cooler.
TODAY'S PRICE ON:
This air cooler from Hindware is 3rd in our list of best air cooler under 8000 Rs which is only available on Flipkart.
It has a capacity of 60 liters which avoids the issue of frequent water changing.
The air flow speed is quiet high – 3800 m/hr , a medium speed settings is good enough for a deep sleep.
Speed control has 3 settings to adjust the speed of the air flow.
It features trolley wheels to move the air cooler to any part of your house,
It's overall a good choice for some one who is looking for a budget air cooler below 8000 Rs.
4. Usha Azzuro – CW502 Window Air Cooler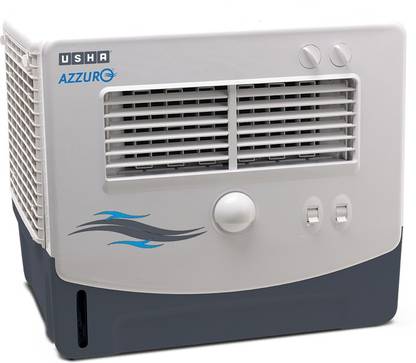 TODAY'S PRICE ON:
Usha Air cooler is the 2nd window air cooler under 8000 Rs listed in this segment.
The Air cooler comes with a capacity of 50 Liters and 3 speed settings.
This type of air cooler needs to be place on window with it's back being exposed to open air.
Such air cooler doesn't utilize the space inside the room.
It is ideal Air cooler below 8000 Rs for some one who want's to place it in a small room.
The cooling in such type of air coolers are limited to some extent.
5. Hindware Snowcrest 42-HT Tower Air Cooler

TODAY'S PRICE ON:
Next is a tower Air cooler from Hindware which comes with a capacity of 42 Liters.
Tower Air coolers are efficient as desert coolers when it comes to cooling.
The Air cooler require less space to fit in any part of your rooms.
It consumes only 240 watts with capability of blowing the air till 26 ft.
Four castor wheels allows the air cooler to be moved to any part of the room.
Overall it's a good air cooler below 8000 Rs to enjoy cool air in summer.
These are the 5 Best Air coolers we recommend for a budget under 8000 Rs.
There are many more air cooler which might be good.
However we have filtered 5 air cooler from it, to make things easier for you.
Now it's your turn.
Hope the list of best air cooler under 8000 Rupees was helpful to finalize your selection.
Do you have any personal favorite which we missed to include in our list.
Or you have any questions on the list air cooler below 8000 Rs.
Either ways do let us know in the comment section below.
Related :